REMC 3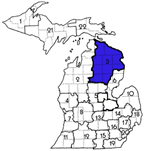 The Cheboygan Otsego Presque Isle Educational Service District (COPESD) houses one of Michigan's 28 Regional Educational Media Centers (REMC). REMC 3 services schools within 3 Intermediate School Districts covering 10 counties in northeastern Michigan. The Regional Educational Media Center Association of Michigan (REMCAM) is an organization committed to providing media and technology resources to Michigan's students and teachers.
REMC 3 STAFF
Heather Kowalski, Director and Tech Integration Consultant
Phone: (231) 238-9394 x1406
kowalskih@copesd.org
Fax: (231) 238-8551
Hours of Operation: Monday – Friday, 8:00 a.m. – 4:00 p.m.
REMC 3 Services
Discounted Pricing on Discovery Education & Learn360 Subscriptions
Technology Integration Consultant Services
MVU Consortium Pricing
Training and Professional Development
Member Districts/Schools
REMC Association of Michigan
The Regional Educational Media Center (REMC) Association of Michigan is a 501(c)(3) non profit organization established in 1969. It's members are the 28 regional media centers operated throughout the Intermediate school district structure.
For a compiled website of all of the projects and collaborative efforts currently being supported by REMCAM, please visit their website.